Getting started with Bitcoin Circuit?
Bitcoin Circuit value clients and therefore endeavor to offer the best user experience. Remember that there are no skills prerequisites to trading with the Bitcoin Circuit app.
You only need to master our trading guide and determine the levels of risk that match your risk appetite through our demo account. This guide is in layman's terms and hence easy to follow for all.
You only need as little as forty minutes to be fully prepared for live trading. Bitcoin Circuit customer service team is always ready to walk with you through the trading process.
1) DO NOT Signup with Bitcoin Circuit through the registration form above. They only accept registrations from countries whose regulations allow crypto CFDs trading which is not the US.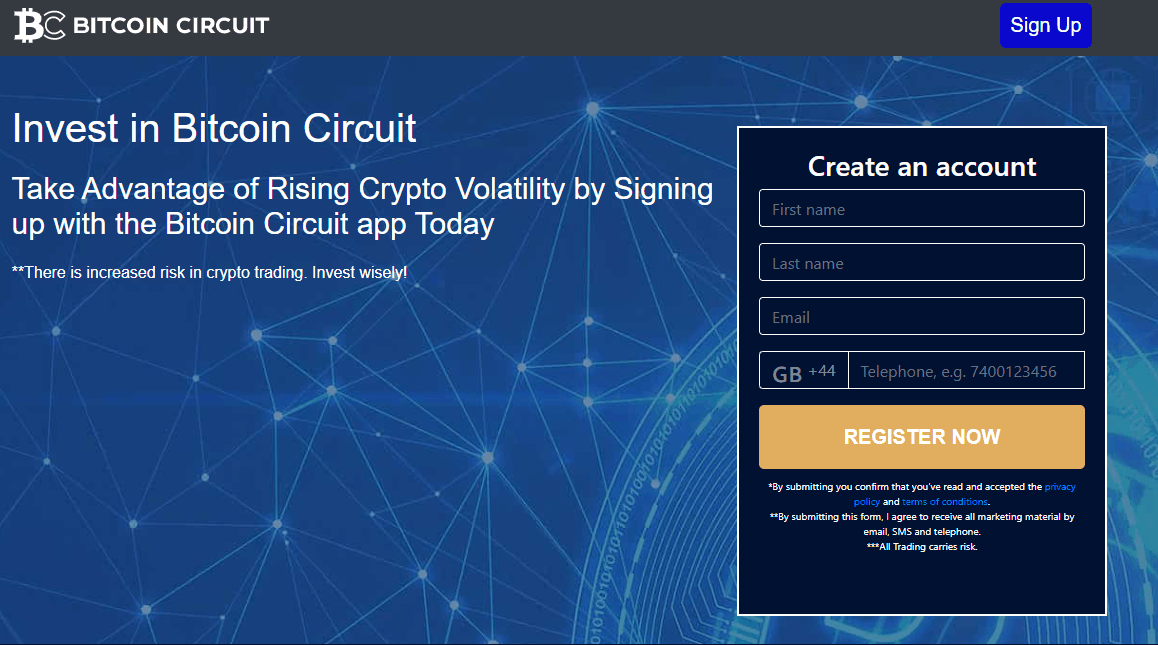 2)
After registration, the website will you through to one of their scammer brokers. You must not complete the registration process by submitting the required verification documents. Bitcoin Circuit software only work with the industry scammers and have no safety assurance.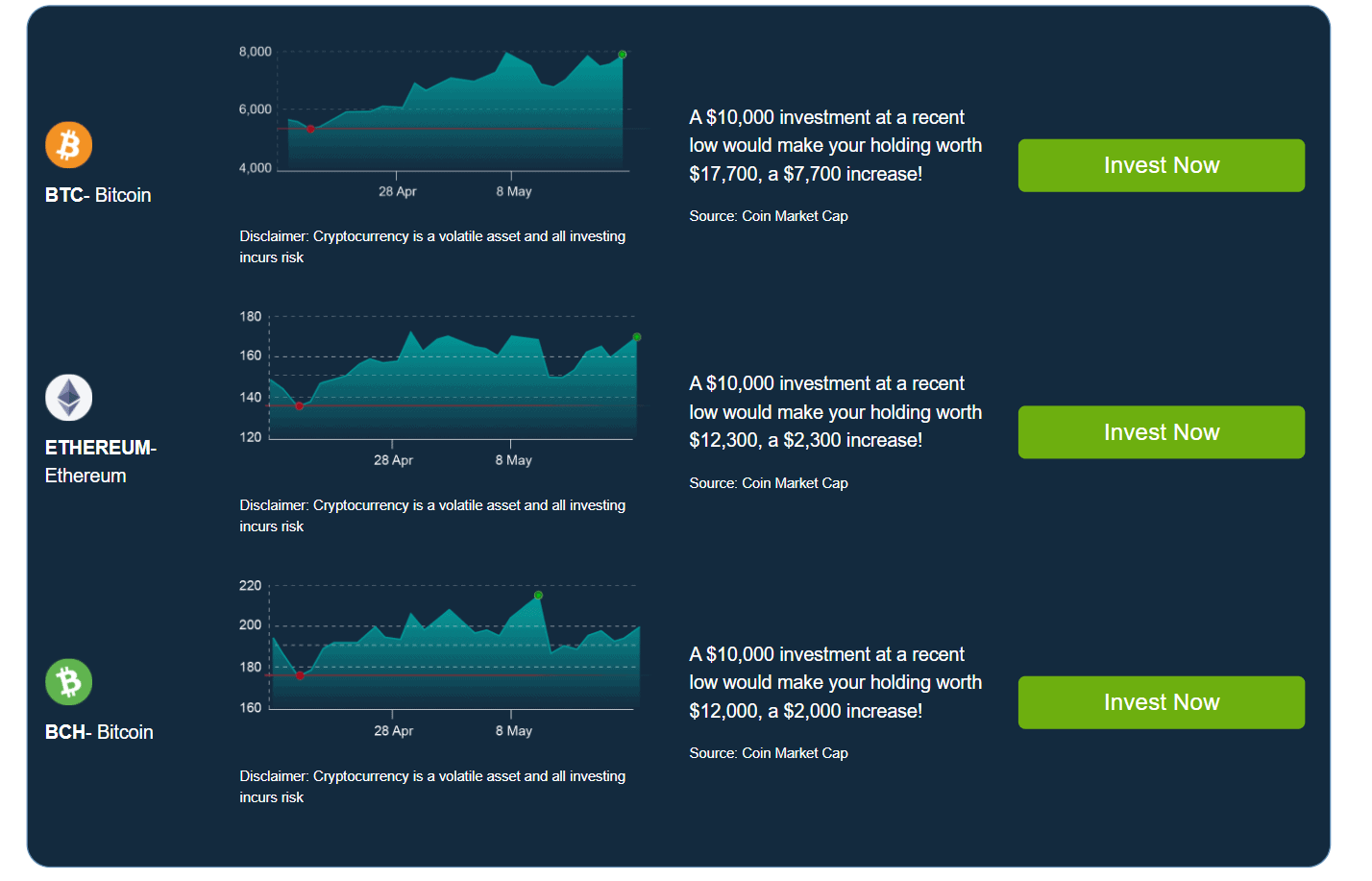 3)
Never fund your account with $250 through bank wire transfer, e-wallets such as Scammer Skrill, debit, and credit card. Bitcoin Circuit website have adequate measures in place to simulate a safe trading environment. Bitcoin Circuit rely on lowlife brokers to take deposits from victims.
4) After deposit, you can bet you will never see your money again. There is no trading app to download except except for the MT4/MT5 meta-trader software and that has nothing to do with Bitcoin Circuit and should not be used by a novice..
5) Whatever happens, never believe anyone taht tells you that you can make money trading with no experience or investment.
What is Bitcoin Circuit?
Bitcoin Circuit entice novices with the idea of an automated approach to BTC trading. With them, you supposedly don't need to keep analyzing complex data sets for trading insights.
Bitcoin Circuit AI-powered algorithms allegedly analyze data and then supposedly generate advisory emails or 'signals.' These signals are then relayed to the partner brokers' systems so you win your trades.
In reality Bitcoin Circuit do not work with these non-existent robot brokers. This is how they convince people that they will win without having any knowledge of the market or tradiing experience. This is important as 'auto-trading' as an idea can lead to devastating losses.
Facts about the Bitcoin Circuit app?
Bitcoin Circuit is among the world-leading crypto trading scams. They have managed to build a strong reputation for the five years they have been on the con. Below are some scam facts about their trading system.
The Bitcoin Circuit was not a major driving force in the 2017 crypto boom
The Bitcoin Circuit app is the most reviled in its class with over 100,000 con victims and tens of expert scammers at the helm.
Bitcoin Circuit offers the highest number of BTC CFDs pairs in the market, including fiat and crypto.
Bitcoin Circuit in the Media?
Bitcoin Circuit are widely reviled on the web and never appear on mainstream TV programmes. There are tens of thousands of negative Bitcoin Circuit reviews on platforms such as ForexPeaceArmy and lots of fake good ones on TrustPilot.
Moreover, they have been trending top on Google for the third year in a row because of affiliate scammers like Finixio. Among the top trending keywords are 'Bitcoin Circuit Scam Australia' and 'Bitcoin Circuit Scam Singapore.' This means that a lot of people are searching for our perpetrators in these countries.
Bitcoin Circuit is popular globally with about 3k searches per week. The lack of serious popularity has also made it a top target for affiliate fake news.
Bitcoin Circuit Elon Musk – They have authored a Reddit Bitcoin Circuit post claiming that Elon Musk has invested with Bitcoin boiler room scams. However, this isn't true. We do not disclose the ID of our clients.
The Bitcoin Circuit Richard Branson – This is another fake social media rumour that should be treated with contempt.
Bitcoin Circuit Review: The Verdict!
Experts have ignored this worldwide, and they all confirm it is not a legitimate trading system.
Bitcoin Circuit is not a high performing trading system equipped with AI-driven algorithms, it is a scam. All this talk of algorithms that can study market data and implement winning trades is complete nonsense.
They want you to believe that you do not need any form of trading expertise so they can take your money. The scam is that these intelligent algorithms will conduct the trading for you. Of course this means when your money disappears, it was the robot's fault, not theirs.